What is DEFBOO.CMD?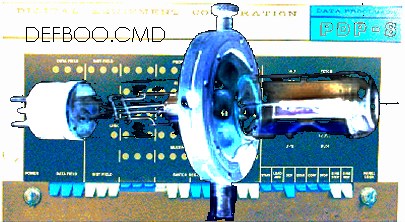 DEFBOO.CMD, or DEFBOO for short, was founded in 1998 by Three members of the Dallas / Fort Worth Compaq User Group, a chapter of DECUS (previously the D/FW Local User Group of the Digital Equipment Computer User Society); David Cathey, CEO of Montagar Software Concepts, John R. Wisniewski, Senior Software engineer and OpenVMS Ambassador for Compaq Computer Corporation, and Patrick Jankowiak, CTO of Daystorm ElectroOptics, Senior Service Operations and Technical Support Engineer for Sony Broadcast and Professional Group, and incidentally, the original requester for the VMS Hobbyist Licensing Program and first licensed Hobbyist.
DayStorm ElectroOptics, founded by Patrick jankowiak in 1984, merged with DEFBOO in 1999, and is now the primary technical center for DEFBOO hardware development, operations, and support. This laboratory and datacenter provides technical services in alignment with the goals of the new and larger organization.
As a computer-related entity, the DEFBOO mission is to provide a physical location for the third Datacenter of the DFWCUG (Dallas / Fort Worth Compaq user Group), to act as a repository and test center for previously owned DEC computer parts, and to perform refurbishment and sales of previously owned computer systems. In a commercially operating legacy hardware situation, we are pleased to suggest economical methods of upgrading to newer equipment and improving the reliability and maintenance cost aspects of the overall situation. We're always open to trading some consulting and technical work for the takeout of the old gear.
As an electronics-related entity, we seek new solutions for unique opportunities, from implementing repairs to the DFWCUG Historical CPU Preservation Society's museum pieces to conceiving and building special-purpose equipment and computer hardware. We even go as far as to redesign and rebuild vintage vacuum tube equipment for maximum performance, in view of today's standards and desire for retrotech. Some of the test equipment in our lab includes network analyzers, curve tracers, signal generators, waveform and vector monitors, storage oscilloscopes, time domain reflectometers, impedance bridges, frequency counters, spectrum analyzers, logic analyzers, power supplies, component and module ATE systems, CAD / CAE tools, and of course, tube testers.
As an enthusiastic friend and professional associate to the Compaq / DEC user, and especially the home VMS user, DEFBOO proudly presents and forwards the cause of the VMS Hobbyist and is outspoken on this subject both locally and at National DECUS Events, providing information and assistance.
As a historical missionary, DEFBOO helps to sponsor the DFWCUG Historical CPU Preservation Society, which seeks to preserve, restore, maintain, and archive historical examples of technology, and make available on the WWW their collection of vintage equipment, software, and documentation, such as
PDP and VAX series machines, manuals, schematics, module specifications and jumper settings, downloadable files from pdp paper tape and DECtapes, and provide web access to rare "not-necessarily-DEC" oddities such as tube type analog computers and audio equipment, and even an Ampex HS-200 (the first slow motion instant replay analog video disc recorder). Many other most unusual and intricately fascinating devices too numerous to mention are also present. To this end we provide the use of our facilities to the Society.
All of these efforts revolve around our dedication to adding value to the technologies industries of which we are all a part.
DEFBOO.CMD is a balanced mix of common sense and seasoned expertise.

Why not have a look at DEC, other, and general electronics hardware and software products for sale or trade defboo.cmd, defboo.cmd, defboo.cmd, defboo.cmd, defboo.cmd, defboo.cmd, defboo.cmd, defboo.cmd, defboo.cmd, defboo.cmd, defboo.cmd, defboo.cmd, defboo.cmd, defboo.cmd, defboo.cmd, defboo.cmd, opcom, OPCOM, opcom, OPCOM, opcom, OPCOM, opcom, OPCOM, VAX, VAX, VAX, VAX, VMS, VMS, VMS, VMS, opcom, OPCOM, opcom, opcom, OPCOM, opcom, OPCOM, opcom, OPCOM, opcom, OPCOM, opcom, OPCOM, opcom, OPCOM, opcom, OPCOM, opcom, OPCOM, opcom, VAX, VAX, VAX, VAX, VMS, VMS, VMS, VMS, pat jankowiak, pat jankowiak, pat jankowiak, pat jankowiak, pat jankowiak, pat jankowiak, pat jankowiak, defboo.cmd, defboo.cmd, defboo.cmd, defboo.cmd, defboo.cmd, defboo.cmd, defboo.cmd, defboo.cmd, defboo.cmd, defboo.cmd, defboo.cmd, defboo.cmd, defboo.cmd, defboo.cmd, defboo.cmd, defboo.cmd, opcom, OPCOM, opcom, OPCOM, opcom, OPCOM, opcom, OPCOM, VAX, VAX, VAX, VAX, VMS, VMS, VMS, VMS, opcom, OPCOM, opcom, opcom, OPCOM, opcom, OPCOM, opcom, OPCOM, opcom, OPCOM, opcom, OPCOM, opcom, OPCOM, opcom, OPCOM, opcom, OPCOM, opcom, VAX, VAX, VAX, VAX, VMS, VMS, VMS, VMS, pat jankowiak, pat jankowiak, pat jankowiak, pat jankowiak, pat jankowiak, pat jankowiak, pat jankowiak, defboo.cmd, defboo.cmd, defboo.cmd, defboo.cmd, defboo.cmd, defboo.cmd, defboo.cmd, defboo.cmd, defboo.cmd, defboo.cmd, defboo.cmd, defboo.cmd, defboo.cmd, defboo.cmd, defboo.cmd, defboo.cmd, opcom, OPCOM, opcom, OPCOM, opcom, OPCOM, opcom, OPCOM, VAX, VAX, VAX, VAX, VMS, VMS, VMS, VMS, opcom, OPCOM, opcom, opcom, OPCOM, opcom, OPCOM, opcom, OPCOM, opcom, OPCOM, opcom, OPCOM, opcom, OPCOM, opcom, OPCOM, opcom, OPCOM, opcom, VAX, VAX, VAX, VAX, VMS, VMS, VMS, VMS, pat jankowiak, pat jankowiak, pat jankowiak, pat jankowiak, pat jankowiak, pat jankowiak, pat jankowiak, defboo.cmd, defboo.cmd, defboo.cmd, defboo.cmd, defboo.cmd, defboo.cmd, defboo.cmd, defboo.cmd, defboo.cmd, defboo.cmd, defboo.cmd, defboo.cmd, defboo.cmd, defboo.cmd, defboo.cmd, defboo.cmd, opcom, OPCOM, opcom, OPCOM, opcom, OPCOM, opcom, OPCOM, VAX, VAX, VAX, VAX, VMS, VMS, VMS, VMS, opcom, OPCOM, opcom, opcom, OPCOM, opcom, OPCOM, opcom, OPCOM, opcom, OPCOM, opcom, OPCOM, opcom, OPCOM, opcom, OPCOM, opcom, OPCOM, opcom, VAX, VAX, VAX, VAX, VMS, VMS, VMS, VMS, pat jankowiak, pat jankowiak, pat jankowiak, pat jankowiak, pat jankowiak, pat jankowiak, pat jankowiak, defboo.cmd, defboo.cmd, defboo.cmd, defboo.cmd, defboo.cmd, defboo.cmd, defboo.cmd, defboo.cmd, defboo.cmd, defboo.cmd, defboo.cmd, defboo.cmd, defboo.cmd, defboo.cmd, defboo.cmd, defboo.cmd, opcom, OPCOM, opcom, OPCOM, opcom, OPCOM, opcom, OPCOM, VAX, VAX, VAX, VAX, VMS, VMS, VMS, VMS, opcom, OPCOM, opcom, opcom, OPCOM, opcom, OPCOM, opcom, OPCOM, opcom, OPCOM, opcom, OPCOM, opcom, OPCOM, opcom, OPCOM, opcom, OPCOM, opcom, VAX, VAX, VAX, VAX, VMS, VMS, VMS, VMS, pat jankowiak, pat jankowiak, pat jankowiak, pat jankowiak, pat jankowiak, pat jankowiak, pat jankowiak, defboo.cmd, defboo.cmd, defboo.cmd, defboo.cmd, defboo.cmd, defboo.cmd, defboo.cmd, defboo.cmd, defboo.cmd, defboo.cmd, defboo.cmd, defboo.cmd, defboo.cmd, defboo.cmd, defboo.cmd, defboo.cmd, opcom, OPCOM, opcom, OPCOM, opcom, OPCOM, opcom, OPCOM, VAX, VAX, VAX, VAX, VMS, VMS, VMS, VMS, opcom, OPCOM, opcom, opcom, OPCOM, opcom, OPCOM, opcom, OPCOM, opcom, OPCOM, opcom, OPCOM, opcom, OPCOM, opcom, OPCOM, opcom, OPCOM, opcom, VAX, VAX, VAX, VAX, VMS, VMS, VMS, VMS, pat jankowiak, pat jankowiak, pat jankowiak, pat jankowiak, pat jankowiak, pat jankowiak, pat jankowiak,