The SONY BVC-10 Betacart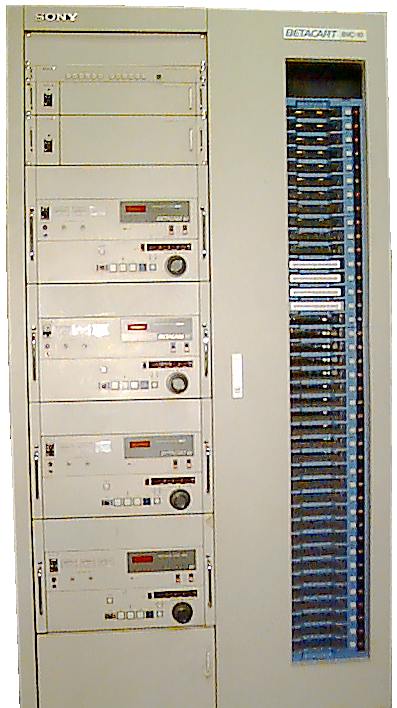 Cart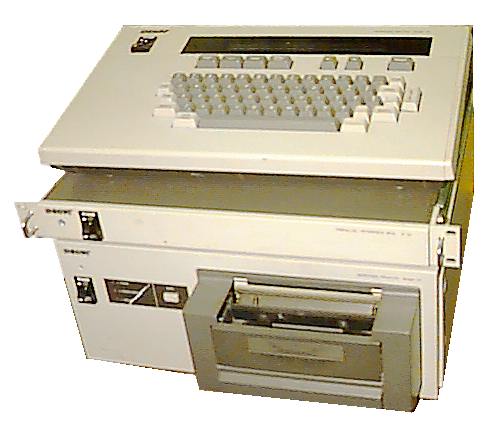 Top to bottom: BVBC-10 barcode writer console, IF-10 parallel interface, BVBP-11 barcode printer.
This is a really cool piece of high quality gear, about 1989 vintage. This unit was commonly used by broadcast and cable TV stations to automate programming and insert commercials. A simple keyboard and video monitor are used to program the times for insertions, and the unit's robot automatically fetches the tape from one of 40 bins, loads it into one of four BETACAM decks. The CPU then cues it up, and switches it into the video stream. It can be set to seamlessly play tape after tape without glitches, as it easily cues up a tape in a few seconds and includes a video and audio switcher and remote control. The operating system is a hacked or 'customized' version of DOS 2.xx, and very reliable. The unit uses time code on the tapes to know where to start and stop playing. The start and end of message data as well as titles are printed on labels in english and barcode. The robot reads the barcoded tapes and the computer system keeps the data along with your play list, in memory and on disk. Access to electronics and robot for cleaning and maintenance is provided by a door. Watch it when defeating the safety interlock for servicing. The fast-moving, heavy robot can snatch your ass bald if you get in the way. These days, you can likely a betacart for free for hauling it off, as most stations have gone to the Sony LMS system or disk based servers for video. Be sure to get the manuals for each component and any supplies, spares, tapes, or used parts which go with the system.
Here's what you have in a typical betacart system:
BVC-10 Sony Betacart system unit
CPU board Extender (servicing) card
BVS-A10 Sony Audio matrix switcher
BVS-V10 Sony Video matrix switcher
BVR-20 Sony Remote control box
BVW-11 Sony Betacam playback deck #1
BVW-11 Sony Betacam playback deck #2
BVW-11 Sony Betacam playback deck #3
BVW-11 Sony Betacam playback deck #4
BVW-11 Sony Betacam playback deck; spare for standby.
BVR-11 Sony remote control keyboard (programmers keyboard)
IF-10 Sony parallel interface box (operate b'cart by remote contact closures)
BVBP-11 Sony barcode label printer
BVBC-10 Sony barcode writer (programming keyboard for printer)
BZC-xx Sony operating system software disks, cleaning & spare disks, uses 720K 3.5" disks.
VDU 12" monochrome video monitor (programmers display CRT)
The weight without decks is about 1000 lbs. Power is 120VAC single phase at about 13 amps. This is a real nice playtoy if you can get one. Beware the decks can be costly to maintain, for instance the video heads are about $600 each. The decks are playback only, so you will need to also have a betacam recorder to make tapes. The tapes are up to 30 minutes in length and are the same form factor as the old Betamax tapes, but the recording system is different (high-speed component versus low speed composite with downconverted chroma), so they are -not- interchangeable.